Gold Coast Solar
Power Solutions
High-Quality Personalised Solar Power Solutions & Services
Auswell Energy is a residential solar power system installation company that has been servicing the Gold Coast region for many years. We strive to provide high-quality and personalised solar power solutions to Gold Coast homes that will not only save you money but promote positive environmental change.
Solar Power for Homes on the Gold Coast
Our goal is to combat the ever-rising energy costs and create a positive environmental impact using solar power. At Auswell, we focus on building relationships, rather than pushing products. We seek to use the most energy-efficient solutions for our clients using quality products and workmanship.
Australia's energy prices are on the rise, and it's a good time to reside in a place with abundant sunshine. Installing solar panels on your Gold Coast home is an excellent environmental and financial decision.
If you want to reduce your energy bills and decide to have solar panels installed, look no further than Auswell Energy. (see our solar installation packages)
Our Gold Coast solar installers have the knowledge, experience, and skills to provide you with the best solar power solution for your home.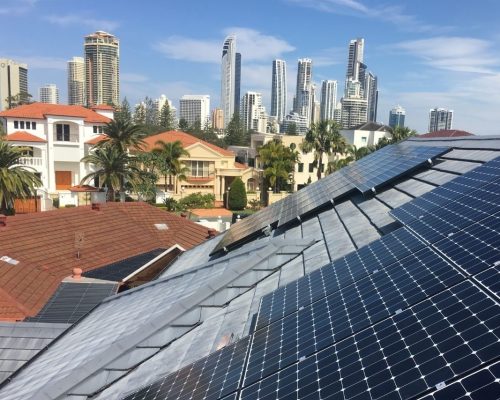 Trusted & Reliable Solar Installers on the Gold Coast
We do not believe in a one-size-fits-all approach to solar energy. Instead, one of our experienced consultants will take the time to understand your energy usage to recommend a custom solution.
We take a comprehensive approach to designing a power system for your home on the Gold Coast, addressing aspects like tree shading on your roof and the potential for solar panel installations on multiple buildings. We welcome you to arrange a free consultation, allowing us to assist you in exploring the various options for installing solar power systems in Gold Coast homes.