Auswell Energy explains the impact bad weather can have on your solar panels and electricity production.
Bad weather can affect the amount of sunlight reaching your panels and although it won't cause any damage, it can reduce its electricity production and efficiency. Solar energy systems require maximum exposure to sunlight which also means they will be exposed to other weather conditions.
In this blog, we'll explore the most common bad weather conditions and how they fare against solar panels.
Do solar panels work when it rains?
Yes, solar PV systems can still produce electricity even when it's raining. Although solar panels are most effective when using direct sunlight, they can also use indirect sunlight too. During these low exposure days, your panels can product approximately 10-20% of their capacity. The amount of electricity production will depend on the heaviness of the rainfall and cloud coverage.
What are the benefits from the rain?
A film of dirt on a solar panel can reduce the amount of sun that reaches the panel, and thereby reduce your power generation. Further, once that dirt is heated by the sun, it can cause significant damage to the underlying cells. One key benefit from rainfall is after the storm, your panels will become even more efficient as the water will wash away all the dust, dirt and pollen.
SWITCH TO SOLAR & SAVE
Take control of your power bill and save! Contact us today for a Free Quote
How much light is needed for power generation? 
Put simply, solar panels operate by allowing light particles (photons) to interact with the electrons in their atoms, which in turn generates a flow of electricity. So, as long as some of those light particles can make it through the atmosphere and onto your solar panels, the panels will generate electricity. The only time your panels won't be producing light is when it is entirely dark, such as nighttime or when the panels are in heavy shade.
Will a proper solar installation withstand bad weather?
To install a solar system that can withstand bad weather events, you need to use properly trained solar installers with years of experience and accreditation. It's also important to make sure you choose a solar company that is confident in its ability to install systems. A professional company should guarantee quality and services and offer a five to ten year quality warranty.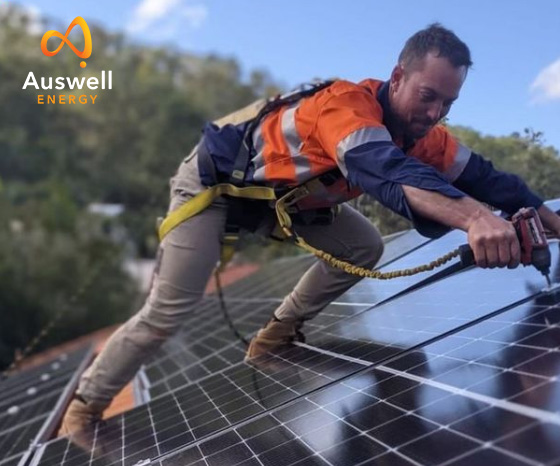 Interested in solar?
Our trusted experts will be able to support you in everything electrical, while offering trusted, lifetime advice. If you're searching for general support or you have questions or considering solar panels, please contact Auswell Energy today!
We have quality solar panels available that will stand the test of time. Call us on 1300 287 955 or email us at info@auswellenergy.com.au. No matter your query, our team will be able to support you.
Get in contact with Auswell Energy for a FREE consultation today! Just call us or send us your enquiries.