Auswell Energy explores how roof pitch can affect your solar power system.
The efficacy of your solar power system depends on many factors like your power requirements, roof orientation, roof type, and roof pitch. Roof pitch isn't something that you can always control especially with pre-existing roofs, but there are some things that can help you make the most of your solar energy system.
What is roof pitch?
Roof pitch is the steepness of your roof. Generally, in Australia, roof pitches are about 15-22 degrees. The pitch of your roof also depends on your roof type where the more common roof types are hipped roofs and skillion roofs.
Hipped roofs can have panels on either side of the roof and will produce energy throughout the day. But a downside of this is that half of the panels will underperform for half a day.
Skillion roofs can be good for surface area, but whether solar panels would be viable depends on the orientation of your roof.
What is the ideal roof pitch?
It's important to keep in mind that the ideal roof pitch largely depends on your home location and the weather in your area. Generally, the best roof pitch for a solar energy system installed in Brisbane and Gold Coast is around 27-28 degrees.
SAVINGS WITH SOLAR
Take control of your power bill and save! Contact us today for a Free Quote
The ideal roof pitch is based on the latitude of your area. If you're building a home, you can request your builder to design a house with a roof pitch based on your area's latitude. If you're looking to install solar panels on an already existing roof, the solar panels can be mounted to fit the ideal angle.
Installation on a flat roof
It is recommended that solar panels are mounted at a 10-15 degree angle on flat roofs. This is mainly so rainwater can flow off the panels instead of sitting stagnant on top. If panel installation with a 10-15 degree tilt is not desirable or practical the alternative is an increased frequency in cleaning and servicing so that any build up of dirt does not get a chance to become too large.
Roof pitch during winter 
Another general rule is to add 15 degrees to the latitude angle of your home so that your solar panels are more efficient during winter. This is more useful in sunny states like Queensland where you may want to install solar panels with winter in mind rather than summer.
This decision still depends on other factors like roof orientation and type, and your solar energy goals. Read our post: Make the Most of Your Solar Panels with These 5 Tips, for more information.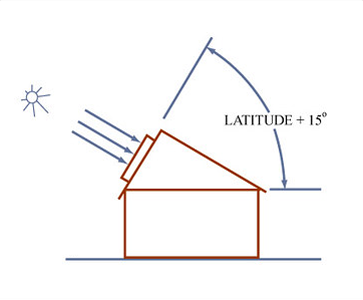 Summary
Roof pitch is the slope of your roof. The ideal angle for your solar panels largely depends on your location and the weather in your area, but generally, in Brisbane and Gold Coast, a roof pitch of about 27-28 degrees is ideal.
To make the most out of your solar energy system during winter, you should request an extra 15 degrees to the latitude of your area. You should also keep in mind your solar energy goal, roof type and roof orientation before requesting this.
Contact Auswell Energy Today
If you are based in Brisbane or the Gold Coast and are interested in getting the most out of your solar panel system, please don't hesitate to contact Auswell Energy! We can provide guidance and help you get the best solution for all your energy needs. Call us on 1300 287 955 or email us at info@auswellenergy.com.au today.
Get in contact with Auswell Energy for a FREE consultation today! Just call us or send us your enquiries.