Auswell Energy runs through things you should consider when planning solar when building a new home.
Building a new home is an exciting journey with many possibilities, and one of those opportunities is an energy efficient home. This article runs through some things you should consider when planning your home for solar energy.
Your land and location
The orientation of your plot of land influences the angle and position of your home which directly influences the positioning and angle of your solar panels.
If the orientation isn't ideal, your house may have to be built in a way that causes your solar panels to underperform.
If your land is on a hill, it's possible that your solar panels will be shaded for part of the day causing your panels to underperform. This is mainly the case if your house is being shaded from the north or east.
Shade
When buying land, look for some factors that can potentially shade your house and panels such as tall trees, or a nearby apartment building that casts a shadow over your land for part of the day.
Tall trees
Multistorey buildings nearby
Distance from neighbours
START SAVING WITH SOLAR
Take control of your power bills! Contact us for a Free Quote
While observing these obstructions, consider how they will affect the location of your solar panels.
Of course, these factors are usually out of your control, but consulting with a solar power installer can help you work around these obstacles.
Roof Design
You don't have to design your roof solely with solar panels in mind, but there are some design choices you can make that will make solar installation smoother.
Work with your builder and consult a certified solar installer to design a roof that incorporates the ideal material, angle and position compatible with solar panels.
Read our previous article Which Direction Should I Face My Solar Panels for more information on solar panel orientation.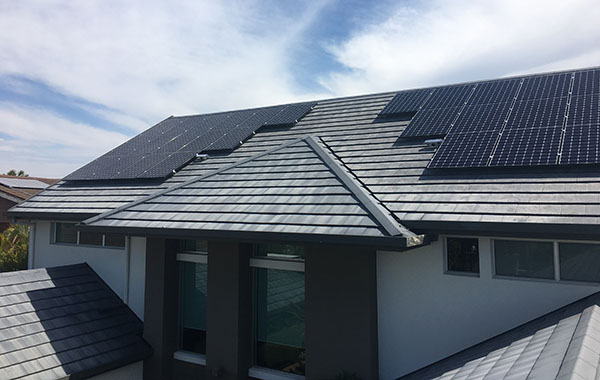 Pre-wiring and pre-laying
Pre-wiring solar panels while construction is occurring is much easier and cost and time-effective than waiting until after the plasterboard is laid. Pre-wiring will also ensure the look and safety of your home.
Pre-laying solar panels on a multi-storey home are better when the scaffolding is still up, so you don't have to spend more on erecting scaffolding later down the line.
It's best to plan ahead and call in a solar panel installer a couple of months in advance so we can coordinate with everyone to schedule pre-wiring and pre-laying.
Contact Solar Professionals
Get in contact with Auswell Energy for a FREE consultation today! Just call us on 1300 287 955 or send us your enquiries through our contact form.